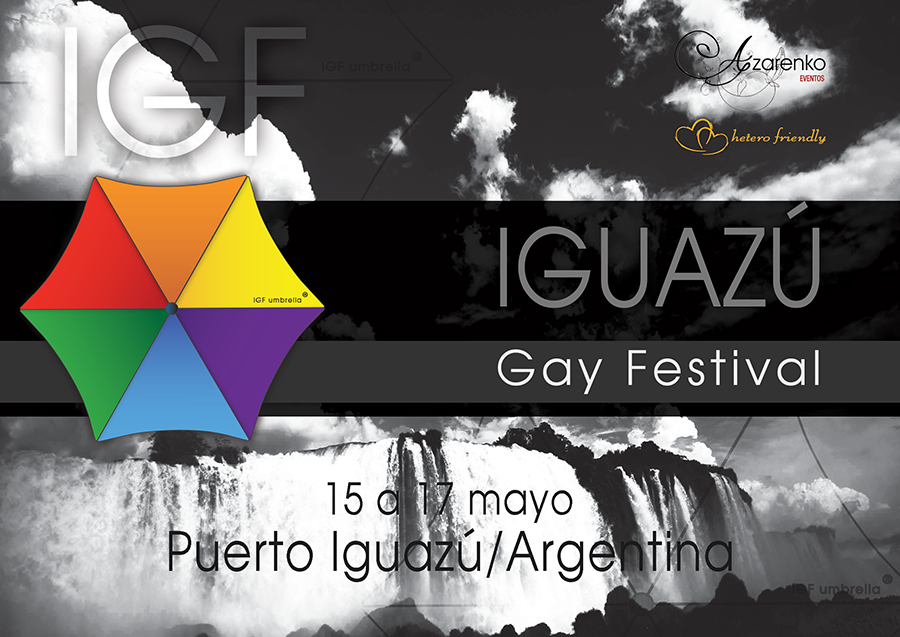 During three days from 15 to 17 May 2015, Iguazú to Host First International Festival in Argentina to represent the union and equality for diversity, which aims to celebrate the gains of the LGBT community over the past 40 years, celebrating the closure, the International day of struggle against homophobia, achieving a sense of integration with Hetero Friendly concept where everyone is invited.
What is Iguazú Gay Festival?
It is a celebration cultural and tourist attractions aims to achieve a sense of integration for all genres where everyone are invited; it is inspired by other international festivals such as the Festival Arena of Mexico and ELLA Festival of Palma de Mallorca to summon thousands of people around the world.
Iguazú Gay Festival aims to become a global obligation quote from LGBT groups, being a unique city Iguazú ideal for this purpose because it has a world wonder such as Niagara.
It is the first LGBT festival of its kind, the country will have its first edition from 15 to 17 May 2015 promising a stunning setting and cutting edge production. Iguazú Gay Festival for several days, have all kinds of events, meetings, large open calls, indoor and best electronic festivals in South America.
PROGRAM
1st day – 05/15/15 OPENING NIGHT (Iguazu Grand Resort Spa & Casino Hotel)
Special welcome – Special Presentations – Guest DJ – Bars drinks and much more …
2nd day – 16/05/15 GAY POWER POOL PARTY AFTERNOON (La Aldea de La Selva – Lodge & Spa)
International Music – DJ's guests – Pool w / bar – Bar Drinks. Free dress.
2nd day – 16/05/15 CRUISING THE MOONLIGHT POOL PARTY (Amerian Portal del Iguazú Hotel)
Guest DJs – thematic Shows – Free Clothing. Bars drinks. Pool w / bar.
3rd day – 17.05.15 IGUAZU FALLS EXCURSION
Excursion to Iguazu Falls (seventh wonder of the world) lunch buffet Falls, visiting the end of the Duty Free Shop. Exclusive Paseo de Iguazú Gay festival.
3rd day – 17/05/15 CLOSING NIGHT PARTY POWER (Convention Center Amerian Portal del Iguazú Hotel)
Parade and Coronation of Queen Drag Queen Gay Festival Iguacu – Shows temáticos- Guest DJ's – Live Music – Bar drinks – Azarenko 2015 Awards to companies that stand out as being inclusive and Celebration of International Day Against Homophobia.