Main tourist destination of Argentina: IGUAZU FALLS
Imposing, challenging, majestic, impressive, does not exist in any language a word that can describe completely and perfectly this miracle of nature. Iguazu Falls, located in the extreme northwest of the province of Misiones, constitute one of the most attractive natural privileges of Argentina. Constantly visited by thousands of tourists who come to these soils from all parts of the world, proudly displayed their incomparable beauty, offering visitors a wide range of activities to develop in the territory annexed.

Iguazu Falls Argentina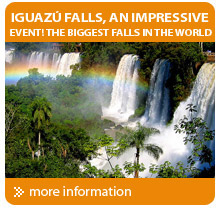 Surrounded by a wild and rugged subtropical vegetation sprout Iguazu Falls 23 kilometers from the mouth of the Mobile River, reaching heights ranging between 50 and recklessly 80 meters. Shared with neighboring Brazil, inaccessible border is drawn in the fabulous Devil's Throat, which, consisting of 275 waterfalls falling sharply in countless waterfalls, dazzles the risk astonished looks tempting.
Iguazu Falls tours
Modern and labyrinthine walkways will allow you to discover every corner of paradise in the middle of Misiones province, although it is still riskier deep into the very falls on boats, so you should be specially prepared for this purpose. Adrenaline, vertigo and the most exciting sensations flood the soul in any of the ways you choose to take around Iguazu Falls, so it is advisable not to skip the journey of any of them, and enjoy the freshness unrestricted water and perfection of the landscape.
The intense and exhausting journey, because of the humidity does not affect the excitement of this superior experience, which will be stored in your memory always demanding the desired repetition.