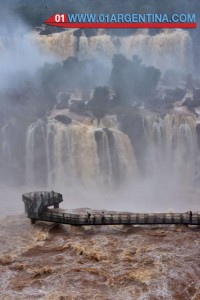 We inform our clients and friends, our Iguazu exhibit a high water flow, and can normally be visited at this unique moment.
The prompt response of National Parks and the Iguazu falls dealership, both in reviving the ride and handling of information, avoiding cancellations of trips
and other tourist services in Puerto Iguazú.
The historical record of about 46 thousand cubic meters per second (m3 / s) of water in the Garganta del Diablo 1500-against-normal, last Monday.
Rapid reaction from the Iguazu National Park in conjunction with the dealership of Iguazu, Iguazú Argentina SA area, allowed to have circuits that were closed that day, and it was also important to the management of information, generating confidence in the tour operators in especially outside.
The word (or text) of the national parks in the world is considered authoritative, accurate information, and thus were taken constant and accurate data communicated during the contingency that arose from the National Parks Administration (APN).
It is normally performing GREAT ADVENTURE Trip, landmark tour that traces the Iguazú and gets almost under the falls. This tour, which culminates in the dock facing the Lower Circuit Isla San Martin, just doing his varied output Puerto Macuco, returning to the same point and with longer duration.
The rise and spread of the photos on the peak day, have positive effect also result in greater interest in the region, being privileged people who can see the Falls at the moment with both water flow.
We recall that the Iguazú National Park, is enabled, and the upper and lower circuits, and normal operation of the train.
The Garganta del Diablo circuit is momentarily closed.
In relation to the National Park of Foz do Iguacu, is enabled in its entirety, including the balcony and bridge, from where you can see the Devil's Throat.
Also inform them that the domestic routes are enabled for normal passage of vehicles.