Iguazu Falls, Argentina Ecotourism, Cultural Tourism in Argentina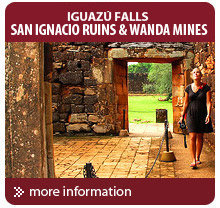 The best tourist attraction of the province of Misiones is Iguazu Falls, but from the cultural point of view we have to mention the Jesuit ruins. The original inhabitants of the area were the Guarani Indians, who lived in the region until the arrival of the monks, who founded the famous missions. By the mid-eighteenth century, St. Ignatius had 3000 inhabitants, they had many cultural activities and its strategic location on the Parana River favored trade with other settlements in the area. But in the late eighteenth the Jesuit Guaraní missions were expelled and abandoned ….
Today you can visit the ruins, declared a World Heritage Site by UNESCO. To prepare this trip and understand better the destination you can watch the movie "The Mission" by Roland Joffré which tells the Jesuit experience in Iguazu, with spectacular shots of the falls.
The ruins of San Ignacio Mini in the province of Misiones have a Jesuit-Guarani Recreation Centre, where in nine rooms you can learn about the the story of the Jesuit mission. The tour includes the company of an expert guide that explains the organize, the idiosyncrasies, rituals and beliefs of the Guarani Indians.
One of the highlights happens in the evening when there is a show of sound and lights recreating the story of the mission. Also shown is the Procession of Corpus Christi, in a musical with the participation of provincial university choir. The town of San Ignacio, shaft called "Region of the Missions", has good infrastructure services, hotels, night clubs, theme parks, campgrounds and resorts to enjoy the river and nature.

Abound in the area cultural and ecotourism activities:
One option is the Rock of Teyú Cuaré, which develop photographic safaris and adventure activities. The site covers 78 hectares, with sites of geological interest and attractive flora and fauna. There it is possible to practice kayaking and horseback riding with cowboys in the Paraná River.

Two ways to enjoy the outdoors activities are the El Puma Ecological Park and Canyon Provincial Park Deep.
Between cultural visits one of the best on in town is the House of Horacio Quiroga, one of the best storytellers in South America. The house and its surroundings was inspiration for many of his stories. Today a museum preserves objects, books and documents. Open daily from 7 to 19.
Another cultural visit is the Provincial Museum Miguel Nadasdy, which shows a sample of representative elements of San Ignacio and its area of influence. Located at Sarmiento 557, is open Monday through Saturday from 7-19 hours.