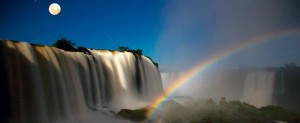 The Month of LOVE
Iguazu Falls, one of the 7 Natural Wonders of the World from November 2011 , exceeded 200 thousand visitors yesterday because it was recorded from 1 January until yesterday , Friday, February 7 , were recorded in the National Park Iguazú , 201.613 visits.
Since signing Iguazu Argentina , dealership services in the Iguazu Falls, ensured that a high rate of domestic tourists , followed by those from Mercosur and then remains foreign .
Visits recorded an average of 4-5000 people per day and hotel occupancy in the city of Iguazu remains high , being as traditionally happens in Iguazu, the higher rated hotels , which have more demand .
Moreover from Iguazu Argentina , noted that for the month of February will offer an excellent choice to celebrate with family next Valentine Iguazu Falls , as from 12 to 16 February the ride full moon will be in the Park . With this choose to experience a full moon, which takes you to the majestic Devil's Throat , illuminated only by the light of the moon in any of the 5 nights in February that will enjoy these rides , which in this 2014 match on February 14 , the date of which falls on Valentine's Day or Valentine's Day.
The full moon walks are undoubtedly the most original and romantic proposal , as they are nocturnal excursions made ​​during the full moon of each month , aimed visitors to Iguazu and learn about a different jungle you hide in night, a unique experience that is possible in a few places on the planet .
This experience is possible in the Iguazu National Park thanks to the new infrastructure built by the concessionaire Iguazu Argentina , with its 7000 meters folding walkways, lets see and hear a lot of nocturnal animals that provide a framework completely renovated to landscape, and thus offers visitors an experience with scents and sounds that are only possible in an environment with so much magic .
The walk starts at the Central Train Station of Forest, where rangers Administration National Parks welcome visitors and clearly convey their experiences and feelings they experience during the ride, and explain that to arrive at the Garganta del Diablo Station a thousand meters walk starts to reach the most impressive jump. There, illuminated only by the light of the moon, the lovers find a night rainbow reflected in the foam of the Iguazu Falls . Space is limited to 120 people per ride , so as not to have an impact on the nocturnal habitat.